3-D Printing Services
Let ESI turn your concepts into reality with our 3D printing capabilities.
If you have a limited budget and are looking to develop a unique idea into an ABS proto-type or part, then our CAD modeling systems along with ESI's affordable 3D printing services can make it happen.
If you are not familiar with 3D printing technology or are learning about it, we can help you to obtain the 3D printed proto-type you are looking for.
At ESI, we have experienced CAD modelers who can model any object you are wanting to 3D print.
Call today to find out how we can print 3D objects for your business.
3D Printing Options to Consider!
There are many choices that need to be addressed before you can order a 3D printed part or proto-type.
The following are items for consideration:
What size part are you looking for?
Parts can be made smaller than their original size.
Standard color of ABS material is neutral.
Additional colors are available but for an additional charge.
Parts can be produced with some strength for functional use or display purposes.
Part can be hollow or solid inside.
Changes can be made to the part's shape.
Multiple parts can be printed together as an assembly to fit in a certain way.
What is needed to start 3D Printing?
It is helpful to have a STL file. STL is the format used by most 3D printers. If you do not have a STL file, we can still create one for you.
We have several ways to create a STL file:
We can convert you CAD model into an optimized 3D print file.
If you have sketches or drawings, we can create one from those.
If you have a physical part, such as a hand-made proto-type,
we can create the file and part.
How much time does it take and what is the Cost?
Most small projects can be completed in 3-5 days, depending on the complexity of the part or mold. As for the cost, please contact ESI for details.
Type of Parts We Can Create!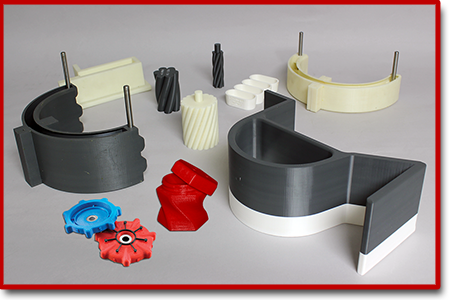 Totally functional solid proto-types
Proto-types for test fitment
Miniatures and souvenirs for promotions
Mold patterns
Replica parts for trade shows
High precision parts
Small replacement parts for old machinery
And much more!
Innovators of Molded Polyurethane and Hybrid Polyurea Technology!
Contact ESI @ 800-786-4244 or 918-485-0276